Home
Touhey References 1885-99  Touhey References 1900-04  Touhey References 1905-08  Touhey References 1909-23
Pat Touhey's Earliest Known Tour
This article was to appear in The Pipers' Review, a publication of the Irish Pipers' Club, Seattle, WA, now suspended (May 2017). Perhaps it will be published some day.
-----
Patrick Touhey (1865-1923) was one of the finest, and probably the most well-known of the Irish pipers of his day. What follows is information, taken primarily from old newspapers, about one of his earliest performing engagements, including the earliest contemporary reference to Touhey I have found.
An obituary of Touhey by Michael Carey from the Irish World newspaper (1923) says that Touhey learned pipes first from Bartley Murphy, but lost interest for a few years. Then, at the age of 18 (c. 1883) he heard John Eagan [spelling varies] play in a music hall in New York City and interest was rekindled. "The result of his contact with Egan was that the two toured the Eastern cities together for some time, and thus began the career of Patrick Touhey as a professional piper...."
"The Passing of Patrick Touhey" Irish World Feb. 3, 1923 p. 6 column 5
Eagan and Touhey toured with "Harrigan's Double Hibernian Co., Irish and American Tourists." Touhey was 20 years old. The following ad is the earliest to mention both the Harrigan Company and Touhey. It is from the Mount Vernon, New York Chronicle Sep. 4, 1885, p. 2 column 5: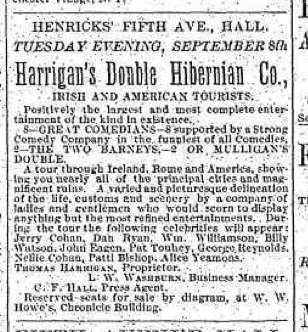 "Henrick's Fifth Ave., Hall. Thursday Evening, September 8th
Harrigan's Double Hibernian Co., Irish and American Tourists.
Positively the largest and most complete entertainment of the kind in existence.
8-Great Comedians-8....
A tour through Ireland, Rome and America, showing you nearly all of the principal cities and magnificent ruins. A varied and picturesque delineation of the life, customs and scenery by a company of ladies and gentlemen who would scorn to display anything but the most refined entertainments. During the tour the following celebrities will appear: Jerry Cohan, ...John Eagen, Pat Touhey, ...Nellie Cohan....
Thomas Harrigan, Proprietor."
This one of only three ads I have found which explicitly says "Pat Touhey." Another is from a show in Doylestown, PA, Dec. 8, 1895. The third is is from an unnamed paper for a show in Dover, N.J., Dec. 23, 1885. It is from the Website of the Dover Historical Society [the Web page incorrectly dates the concert to 1880].
Pat Touhey is also mentioned in three reviews of the show from January and April 1886. Here is the most detailed one, a review of a performance in Reading, Pa., Jan. 22, 1886:
'Harrigan's Hibernian Panorama and Specialty show entertained a fair-sized audience last evening. The panorama of Irish scenery, with views of cities, castles, and places of historic interest, were much appreciated. Besides these views, the "two Barneys," Messers Jerry and Tim Cohan, gave a unique exhibition of Irish character. The Irish bagpipers, Pat. Toohey and John Eagan, formed an excellent part of the show; it was probably the best music on the bagpipes ever heard here. There was lively dancing, of the Irish jig sort.'
Reading, PA Daily Times and Dispatch Jan. 23, 1886 p. 4 column 1
Ads from the first quarter of 1886 have almost identical text, but the list of celebrities is different. All are changed except for Jerry Cohan and John Eagan. There is a "Con. Touhey" listed instead. Pat under another name? No way to tell.
For example an ad for a show in Medina, NY, March 9, 1886 in the Medina Daily Register Journal.
Harrigan's Company was active under varying names from at least 1885 to 1890; in 1890 known as "Harrigan's Two Barneys, and Irish and American Tourists Co." and last heard of playing again in Mount Vernon, NY, March 25, 1890. Almost all of the references I found for the Company are for performances in small towns in New York State, but this has to do with the limitations of the available newspaper indexes. They probably toured throughout the Northeast. I did find references to engagements in Ypsilanti, Michigan (Jan. 1886) and Bridgeton, New Jersey (Sept. 1889) for example.
[Ypsilanti and Bridgeton refs are from http://www.genealogybank.com behind a pay wall.]
When Touhey was performing with the Company it was an unusual aggregation. At least eight actors performed a play, "The Two Barney's," and a panorama of scenes from "Ireland, Rome and America" was shown, probably painted on a canvas scroll. Music and dancing were part of the show, Jerry Cohan being a well-regarded dancer.
From 1885 to 1887 one of the promotional efforts of the show was a Grand Parade through the town, featuring the 'Greatest team of Bagpipes ever from Old Ireland, riding on a Rale Ould Jaunting Car, drawn by Ulster ponies, "Dublin Jackeen" and "Mullingar." '
Auburn Bulletin, NY Jan. 24, 1887 p. ? column 5
Another ad describes it thus: "Our Great and Novel Street-Parade. A costly Irish jaunting-car, drawn tandem by two richly-clad ponies, driven by a costumed jarvey, seating a team of Irish bag pipers, playing sets of the most expensive pipes ever imported."
New York Clipper Oct. 24, 1885 p. 510 column 5
From another ad from January 1886: "On that day a pair of Irish bagpipes, costing $800 each will be on exhibition."
Waverly Free Press, NY Jan. 30, 1886 p. 2 column 2
Eagan and Touhey - and their successors - sat in the jaunting car and played as it was paraded through town before the performance. O'Neill describes Eagan as "The Albino Piper," who, like Touhey, played left-handed. He was apparently a good player on the regulators; Eagan and Touhey must have made quite a sight - and sound - on the jaunting car. On December 8, 1885, Henry Mercer encountered them "sitting in a little jaunting car with a pony played the Joy of my Life and Donnybrook Fair as you have it or as Eagan called it Off to Donnybrook around the streets of our village Doylestown [PA]...."
O'Neill, Francis, Irish Minstrels and Musicians (1913) p. 236
Letter from Henry Mercer to Francis O'Neill, Aug. 27, 1920 p. 2 From the Collection of the Mercer Museum Library of the Bucks County Historical Society.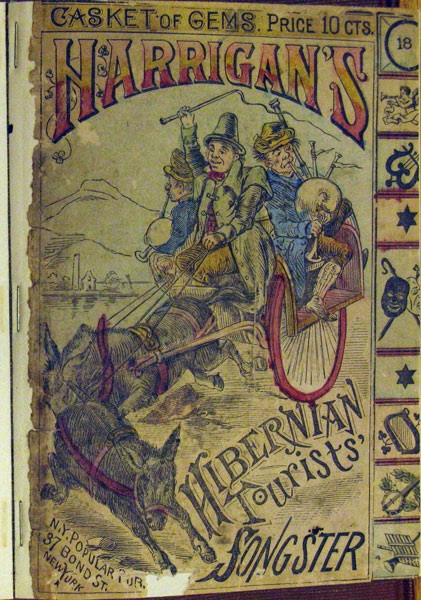 This is the cover for the Harrigan's Hibernian Tourist Songster a 32 page booklet about six and a half inches tall. It contains mostly lyrics to songs, at least two by Jerry Cohan. It was published by the New York Popular Publishing Co., probably 1885. Courtesy of the New York Public Library.
There is no evidence that Touhey played for Harrigan's after the Sept. 1885-May 1886 season. It is possible he played for the 1886-87 season. The "team of Bagpipes" was still advertised until at least January 1887. This may indicate that he was playing, or that other pipers were hired after Touhey left. Or the ads may have been touting attractions that no longer existed.
In June 1886 Harrigan's Company ran a "wanted" ad in a theatrical trade paper, seeking a contracting agent, an Irish comedian, etc., for a forty-week contract, commencing August 31. This was typical seasonal timing for theatrical productions; the touring season began in September or October, usually ran through May. It is a clue that Touhey likely started with the Harrigan Company in September, 1885. If Touhey signed a contract on similar terms for the 1885-86 season, beginning Monday August 31, 1885, forty weeks runs to June 5, 1886.
New York Clipper June 26, 1886 p. 239 column 3
By September 1886 the attractions included "Harrigan's Irish Brigade Band, W. C. Groves, Leader, escorted by Major Kibble, Military Drill Expert and Lightning Musket Juggler...." Yonkers Statesman, NY Sep. 3, 1886 p. 2 column 6
As it happens, Jerry and Nellie Cohan were the parents of George M. Cohan, later an enormously successful entertainer, playwright and songwriter ("Give My Regards to Broadway" "Yankee Doodle Boy" "Over There" and "Harrigan"). George M. recalls the Company in his autobography, misnames it "Jerry Cohan's Irish Hibernia."
Cohan, George M. Twenty Years on Broadway. New York: Harper & Brothers, 1924.
George M. Cohan (1878 - 1942), would have been seven or eight years old at this time. He was a child of a theatrical couple, and helped them out in show business as soon as he was old enough to do so. From his autobiography, reprinted in the Buffalo Courier, June 6, 1926 p. 84, his recollections:
' "Jerry Cohan's Irish Hibernia," was the name of a troup dad organized and started on tour when we finished with "Daniel Boone." With a panorama of Ireland, showing thirty odd scenes, a couple of Irish bagpipers and a jaunting car, we toured the one-night stands for seven or eight months. My job with this show was driving the two mules hitched to the jaunting car on parade, and taking tickets at the front door, besides selling song books during the intermission.
'I got my first experience as an advertising agent with this show. Dad and I used to pass out hand bills to the factory hands during the lunch hour, while the Irish bagpipers would drone their jigs and reels. When the "Hibernia" troup closed, we went back to Keith's [theatre in Boston] (1888).'
By the way, there is no evidence that George M. Cohan "danced to Touhey's piping" onstage or off, but it is certainly possible. On the other hand, legend has it that he was presented with his first pair of dancing shoes at age 10, a couple years after his association with Touhey. To that point he had been focussed on playing the violin.
Mamie McBride obituary, Variety March 15, 1944 p. 58 column 4
from microfilm
The next reference to Pat Touhey is in April 1887. He has moved on, is in the cast of a play, "Inshavogue; or, The Patriots of '98," opening in New Haven, Connecticut, with a seven week commitment. He is described as "the great Irish piper...."
New York Mirror Saturday April 16, 1887 p. 3 column 4
The touring and theatrical world must have appealed to Touhey. Much of the rest of his life was spent "on tour," in plays and in vaudeville. He developed a compelling, by some accounts charismatic stage presence. His days with "Harrigan's Hibernian Company" were, as far as is known, his introduction to that itinerant life.
-----
A note on what the Double Hibernian show was like
For those readers who are trying to imagine what Touhey's working environment was like at this time, here are a few clues.
The Double Hibernian show was a combination of play, musical comedy and travelogue. From about 1870 to 1890 there were several similar and competing shows, mostly touring the Northeast, and having Ireland as their subject. The panorama was a feature of all of them.
Fifty years later, an unnamed writer in the Plattsburgh, N.Y. Daily Press remembers:
'[The panorama itself] used to be set up on the stage a short distance from the back drop [that is, near the back wall of the stage].
'The panoramas consisted of a series of paintings about five by eight feet. They were attached to two upright spools and the operator usually was a boy who sat out of sight beside one spool and wound it up as the other spool unwound. There was a curtain in front with an opening just large enough to make a frame for the picture.
'Among the most popular of these panoramas were those with a special appeal to the Irish people of whom there were many immigrants in those days. In connection with the showing of the panorama and its accompanying lecture, a number of specialty performers took part. The lecturer usually played the part of the head of a small party of tourists taking in the beauties of the Emerald Isle. There would be an Irish comedian acting as a guide who would break into a song or a dance at the slightest provocation. He was accompanied by a soubrette who played the part of an Irish colleen, and she could execute an Irish jig "like nobody's business." Then there would be a blackface comedian, a protean artist who specialized in character changes and an old fashioned Dutch comedian with wooden shoes and a paintbrush beard attached to his chin.'
Plattsburgh Daily Press [NY] April 15, 1939 p. 4 column 1
With lighting changes and sound effects, the paintings could be "transformed" with "scenic effects." For example, a scene could change from day to night by changing the lighting from white to blue. And light projected from behind the painting, illuminating holes in the canvas representing windows and stars, would enhance the effect.
Here is a review of the Double Hibernians from an undated show in New Haven, Conn., probably when Touhey was part of the Company:
'The company is justly entitled to the many flattering criticisms they have received - they are simply immense. The scenery is deserving of especial mention. The storm scene on the ocean, with the lightning flashing, the thunder rolling, and the good ship "Britania" tossing on the waves in particular. The sunset and moonlight scenes on the Lakes of Killarney were really beautiful, and they called forth bursts of applause. Another scene of great merit was a view of St. Patrick's Cathedral, Dublin, by night, with the old-time illumination and the priests chanting the Christmas anthem. - In fact, there are too many to particularize. Jerry Cohan and Dan Ryan, as the two Dublin Guides kept the house in an uproar by their ludicrous mistakes and funny sayings. Miss Nelly Cohan and Patti Bishop were also the source of much amusement. The singing, dancing, reels and jigs, were all executed in the good old Irish style. Go and see them tonight - your last chance to pass away a night in Ireland. - New Haven Review'.
quoted in the Nyack, NY Rockland County Journal Sept. 12, 1885 p. 1 column 2
Many thanks to Barry O'Neill for his helpful insights and comments.
Note: Web page references (URL's) and additional images for the newspaper and journal articles mentioned here will be found on the Touhey References 1885-99 page.
Nick Whitmer
Jan. 2014 revisions 2015-16
Touhey References 1885-99  Touhey References 1900-04  Touhey References 1905-08  Touhey References 1909-23