Descriptions of the equipment and supplies I sell.

NOTE I am slowly getting out of providing Reedmaking Equipment & Supplies. I will continue to supply mandrels, shooting boards and other items that I make for as long as I am able. I will sell other items for as long as supplies last. N.W. August 2008.

BRITTON, Tim, My Method: a step by step guide for constructing reeds for the uillean pipes, revised and expanded edition, 1994, 39 pp. I once sold this useful book, but no longer. Tim has a newer edition out; why not buy it from the source? Click here

CHANTER TUBE CANE from Spain. 24 mm diameter, give or take a millimeter or two. Approximately 15/16" diameter. Minimum tube length 4". If you require a longer minimum tube length let me know.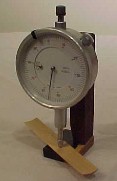 &nbsp
DIAL GAUGE with wooden attachment. - I no longer sell this. For measuring slip thickness. Dial reads in thousandths of an inch. Dial gauges like this are available from industrial supply companies. I used to make the wooden attachments, but no longer.
DRONE CANE - I no longer sell drone cane.
Over the years cane tubes in the sizes appropriate for drones have become increasingly expensive and more difficult to obtain. Na Piobairi Uilleann usually has some to sell. In recent years two or three people have posted to the Uilleann Pipe Forum and anounced that they have cane to sell. Use the Forum search function to find these posts.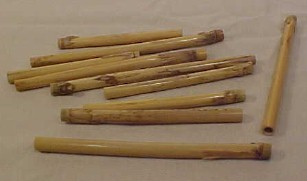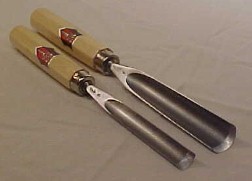 &nbsp
IN-CANNEL GOUGE - I no longer sell gouges.
I once sold two different widths of gouge, but the curvature of the cutting edge is almost identical for both widths. The radius of a circle of this curve would be a bit smaller than 5/8". The proper description of the gouges is an in-cannel gouge, sweep 6, 16mm wide (about 5/8" wide) or sweep 8, 25 mm wide (about 1" wide).
Gouge width is a matter of personal taste; I prefer the wider gouge, but that's what I started out with.
I bought them from
Frank Mittermeier, Inc.
P.O. Box 2
Bronx, NY 10465
USA
718-828-3843
www.dastrausa.com
Sources for similar gouges include Tim Britton and Na Piobairi Uilleann when they have it in stock.
MANDREL for tube staples. I make them of 5/32" drill rod for D chanter reeds, 1/8" drill rod for C chanter reeds. About 6" long. Slather the mandrel with WD-40 or similar product from time to time or it will rust. Click here for measurements of mandrel tapers.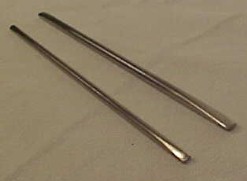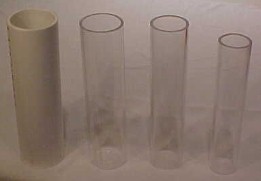 &nbsp
PLEXIGLASS AND PVC TUBES - A set of four, each about 8" long. Diameters are 1 ½", 1 Ύ", 2", 2 3/8. I no longer sell these.
QUINN, David, The Piper's Despair: a manual of reedmaking for the irish and northumbrian bagpipes, third edition, 1999, 43 pp. paperback with comb binding, 11" x 8 ½"
REAMER for brass tubing - I no longer sell these. With a screwdriver handle, tapers from about 3/8" to 1/8" over about 2 5/8".
A well-supplied hardware store should have these. Often found on eBay.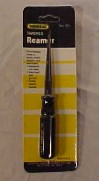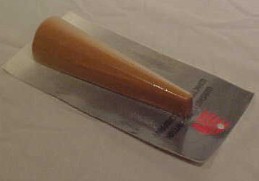 &nbsp
SHARPENING STONE - I no longer sell these.
Conical shaped, about 6" long. For sharpening the in-cannel gouge.
SHOOTING BOARD - I make them of hardwood and brass screws. Working length is 4 ½".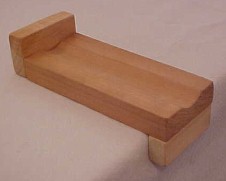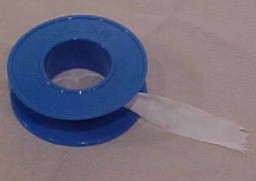 &nbsp
TEFLON TAPE - I no longer sell this.
Like plumbers use. A spool has about 260" of ½" wide tape. Almost any hardware store or plumber's supply will have.
TUBING CUTTER - For cutting to length the tubing for staples. The cutting process leaves a ridge on the inside edge of the tube end, which should be removed. Do this with a file (a hassle) or the reamer described above.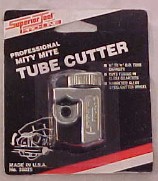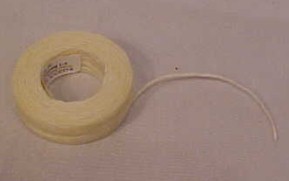 &nbsp
WAXED THREAD, NYLON - I no longer sell this.
This product is called beeswaxed Nyltex. Thickness is very approximately .030" (thirty thousandths of an inch). It is very strong. I use it for binding reeds, tieing in stocks, and as wrapping on tenons. It is sold in different colors, black, brown and white. Comes in 25 yard spools and in larger spools of 4 ounces, the latter probably a better buy.
Nyltex has been consistently listed on eBay for the past few years. Look for it there. Or some local shoe repair shops are willing to order it for you.
WHITMER, Nick, The Driving Wheel: making scottish smallpipe reeds, second printing with revisions, 1998, 21 pp. paperback, 8 ½" x 7"
YELLOW HEMP - Described as a "1 ounce kop," a spool about 2 Ό" long. Unwaxed, yellow. About .010" (ten thousandths of an inch) thick.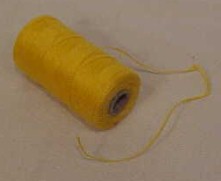 &nbsp